Anti-Vibration Technology
Makita's new generation of machines are more powerful than ever before. but thanks to AVT™ technology they also break new ground in vibration protection.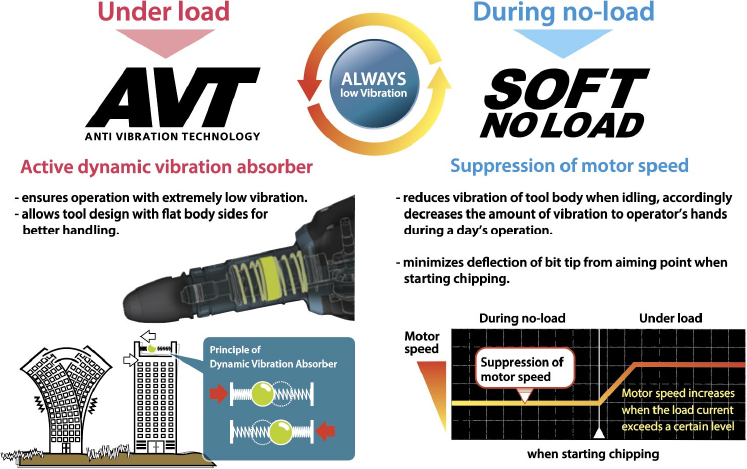 How AVT works
Focusing on the three D's: Dialogue, Development & Delivery
No effort has been spared to ensure that our products provide the professional user with reliable, long lasting power, The diagram on the right shows the benefits of AVT at work and how we have manged to apply this revolutionary new technology to two of our most heavy duty hand held tools.
Initial Protection
The AVT mechanism works by transferring air around a series of chambers which, in turn, pushes a counterbalance in the opposite direction to the piston, thereby cancelling out the vibration piston would have created otherwise.
Secondary Protection
Shock absorbing handles are also used on appropriate tools for added protection.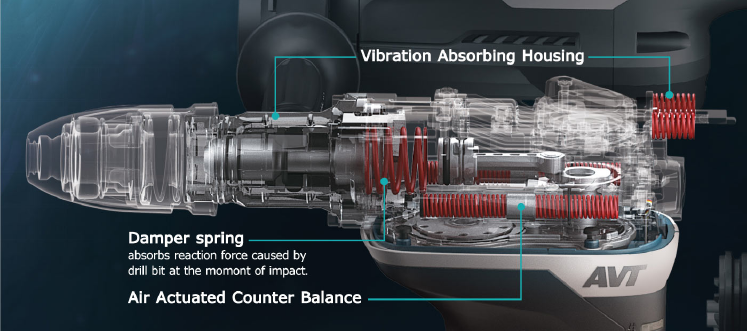 AVT-HAMMERS
AVT-HAMMERS
Ensures operation with extremely low vibration. Allows tool design with flat body sides for better handling.
Damper Spring
Absorbs reaction force caused by drill bit at the moment of impact.
Vibration Absorbing Housing
This is the new AVT mechanism advanced from the current "Vibration absorbing handle". The level of vibration is further reduced by completely separating the machine holding section from the motor/transmission section.

AVT-BREAKERS
Counter Weight Mechanism
Reduces vibration during chipping operation.
Vibration Absorbing Housing
Providing a practical combination of high power and low vibration.
Soft No Load Function
Reduces vibration of tool body when idling, accordingly decreases the amount of vibration to operator's hands during a day's operation. Minimizes deflection of bit tip from aiming point when starting chipping.